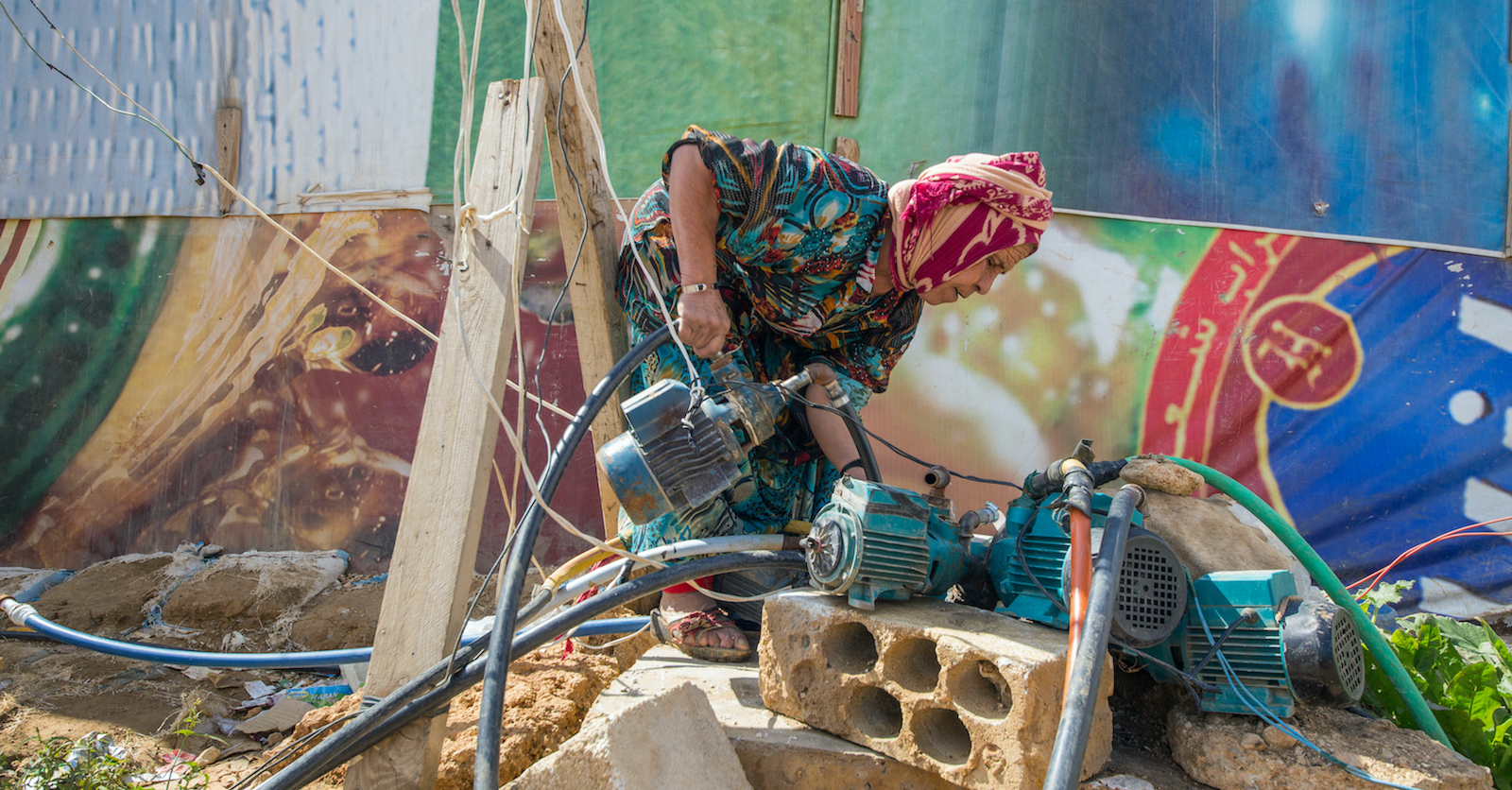 How do Refugees Decide Whether to Return Home?
As of September 2020, the Syrian government had retaken control of the majority of Syria, leading to speculation about the end of the country's civil war and sparking debates both within the region and beyond about whether Syrian refugees will return. While some regional governments have begun to take active steps to encourage such return, many in the international community believe that conditions in Syria remain unsuitable for return. Still, some have started to consider steps to aid refugees with going back.
Absent in these discussions is the voice of Syrian refugees. Do refugees want to go back to Syria? And if so, when and how? What are the conditions that predict the return of refugees? With support from Innovations for Poverty Action's Peace & Recovery Program, IPL researchers conducted a representative survey of 3,000 Syrian refugees in Lebanon to learn about their return intentions.
Between August and October 2019, researchers carried out in-person interviews with more than 3,000 Syrian refugees across Lebanon. The research team recruited a representative sample of Syrians in Lebanon, meaning that the survey data enables the researchers to draw conclusions about the full population of Syrians in the country. The research team asked heads of household a series of questions related to their return intentions, their living conditions in Lebanon, the conditions in their places of origin in Syria, and the locations of their networks of family and friends.
Most respondents said they anticipated returning someday, but only 5 percent of Syrians intend to return in the year following the interviews. When asked where they expect to be living in two years, the percentage of Syrians who said they expect to be living in Syria rose to 27 percent. When asked if they ever hope to return, more than 60 percent said yes.
There were significant differences between where people expect to be in two years and where they would wish to be under ideal circumstances:
Less than 30 percent said they expected to be in Syria, but 60 percent said they wished they could be in Syria.
Over 40 percent said they expected to still be in Lebanon, but less than 20 percent said staying in Lebanon would be their ideal choice.
20 percent of Syrians said Europe would be their ideal location to live but only 7 percent said they realistically expected to be living in Europe.
Overall, while many Syrian refugees do not think it will be realistic to return to Syria soon, many wish they could go back.
Another important question for the humanitarian community is whether households plan to return together or separately ("split return," where one or more household member moves back to Syria before all other household members). The research finds that more than half of households that plan on returning soon (of which there are relatively few) anticipate that not all household members will be able to move together.
Push and Pull Factors
To examine what factors influence the return intentions of refugees, researchers used the survey data to construct a series of indices, which they used to assess the relative importance of various "push factors" and "pull factors" in people's decision-making.
"Pull factors" in Syria predict refugees' short-term intentions to return. Specifically, an improvement in perceptions about safety, economic well-being, and service provisions in Syrians' places of origin was correlated with an increase in return intentions in the next 12 months. Similarly, Syrians who reported that many in their networks of family and friends stayed or returned to Syria were more likely to say they want to go back in the next 12 months. The results also showed that higher levels of Syrian government control in people's town or city of origin was correlated with a decrease in Syrians' intention to return.
Meanwhile, "push factors" from Lebanon do not predict return intentions. The researchers had expected that people who were worse off in Lebanon would be more likely to say they intend to move back to Syria. However, poor economic and social well-being, poor provision of services, lack of family networks, and a precarious legal situation were not correlated with higher return intentions in the short term. This suggests that even if the conditions of Syrian refugees in Lebanon become worse, they are unlikely to return to Syria as long as the conditions in their places of origin are not suitable.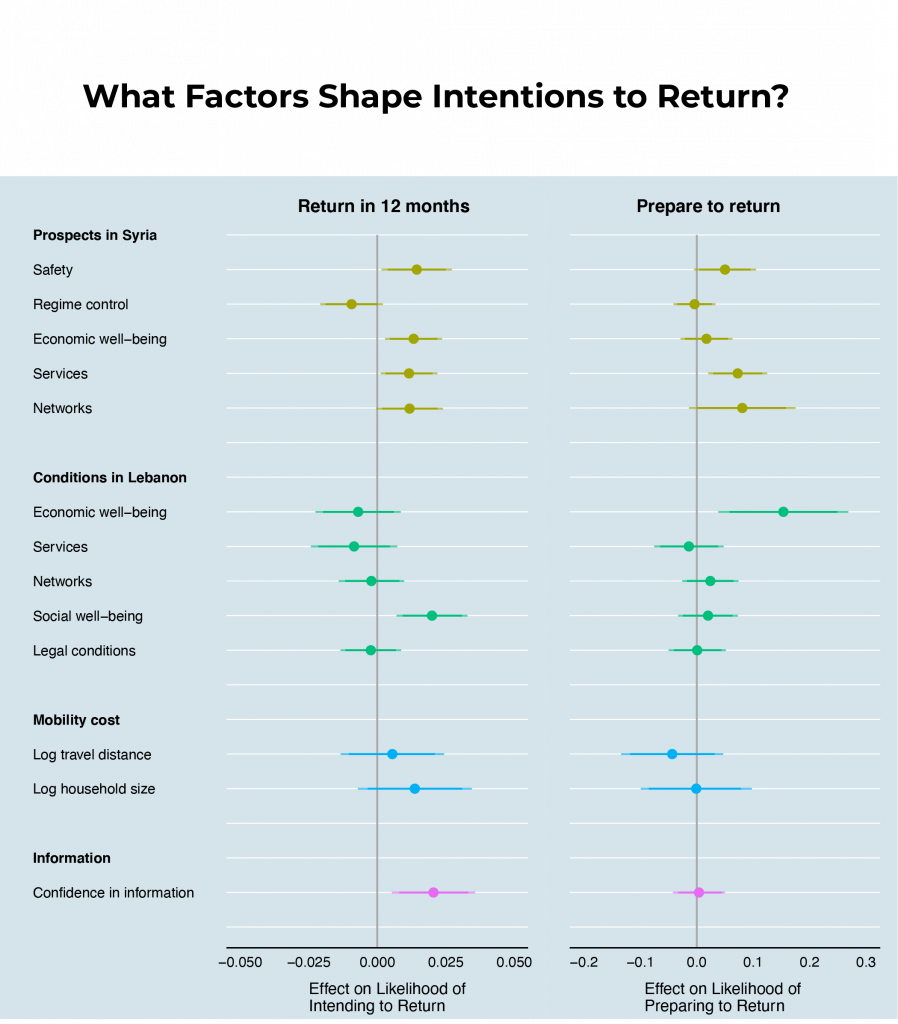 The research team found some variation among different groups in their intentions to return to Syria:
Gender: Women and men think similarly about return in the short term, but more women said they want to go back to Syria at some point in the future.
Education level: More educated Syrians report higher intentions to return to Syria, especially in the near term (1 year and 2 years).
Urban/rural: Syrians living in informal tented settlements in Lebanon were more likely to say they want to return in 2 years or ever compared to those living in urban communities in Lebanon.
Roughly 60–70 percent of respondents said they rely on Syrians in Lebanon and in Syria to learn about conditions in Syria. This is followed by transnational media and social media, which approximately 20 percent said they use to learn about conditions in Syria. Official Syrian media was used by just over 10 percent of Syrians in Lebanon. Finally, UNHCR and NGO announcements were used by around 5 percent of Syrians to learn about conditions at home.
Planning for Refugees' Future
Looking at why people intend to return, the research finds that refugees' plans and aspirations around return seem to be largely shaped by the situation in Syria. This suggests that many refugees will not go home before local conditions are safe and there are economic opportunities and services.
The results indicate that efforts to push Syrians out of the host country are unlikely to be effective as long as there is little change on the ground in Syria. Even refugees facing significant hardship in Lebanon would not want to go home as long as local conditions in their places of origin remain unsuitable.
The results also show that although a majority of Syrians may eventually return, more than one third expects to continue living in Lebanon, including some of those who wish that they could return. Many refugees live in difficult situations in Lebanon and other host countries and will continue to do so for the foreseeable future. As such, the humanitarian community needs to maintain its involvement in supporting refugees in the host countries, including around legal status, access to services, and labor-market opportunities. Many of these refugees also suffer from hostility and formal restrictions on their mobility that need to be addressed for those who remain in host countries in the years ahead.
LOCATION
Lebanon
RESEARCH QUESTION
What factors shape refugees' decision to return home?
TEAM
Ala' Alrababa'h
Daniel Masterson
Marine Casalis
Dominik Hangartner
Jeremy Weinstein
Nasser Yassin
RESEARCH DESIGN
Panel Survey
KEY STAT
About a third of the Syrian refugees surveyed said they did not expect to ever return to Syria.
FUNDER
UK Foreign, Commonwealth & Development Office, awarded through Innovations for Poverty Actions's Peace & Recovery Program