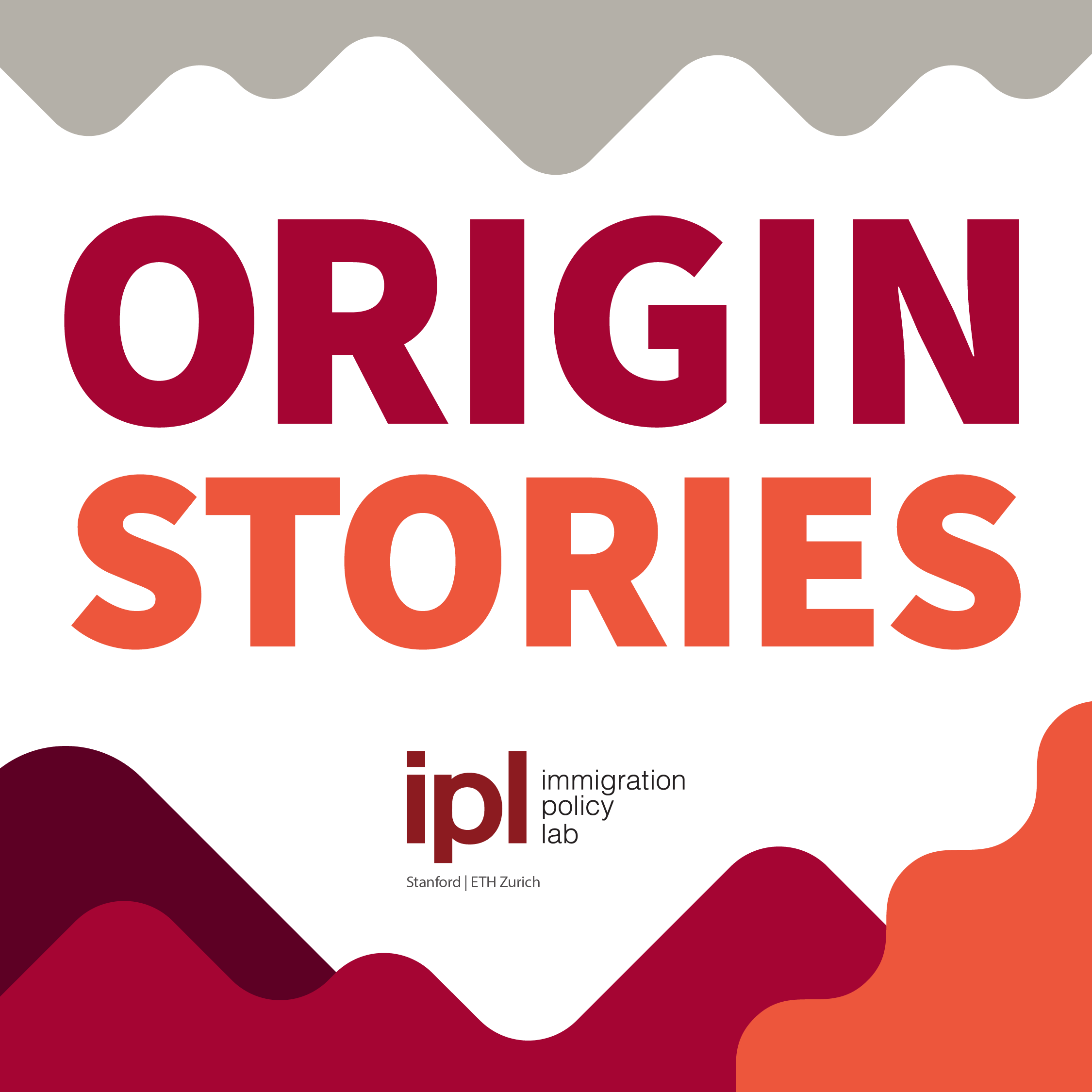 Origin Stories is a podcast by the Immigration Policy Lab that explores migration through research and storytelling, highlighting
 the human stories behind the data. 
Listen and subscribe on your preferred platform:
Season 2: Stanford Alumni Edition
In this special alumni edition of Origin Stories, we invited Stanford alumni to interview each other about how immigration has shaped their lives.
Our guests in this episode are Dhruti (Dhru) Gopaluni and Maria Cristina Chicuen. Both came to the U.S. at age six, Dhru from Radmadri, Andhra Pradesh, India, and Maria from Havana, Cuba. Their conversation touches on the ways studying at Stanford exposed them to people, cuisines, and ways of being from around the world—pushing them to redefine their own identities and relationship to their respective cultures. Dhru is a Management Program Analyst at NASA. Maria is a Principal at Kivvit. Both graduated from Stanford in 2017.
Our guests in this episode are Sheela Chari and Sonja Srinivasan. Both grew up Indian American in parts of the US where few shared their cultural heritage. Together, they discuss their trajectories as writers, their relationship to the Tamil language and cooking, and representations of Indian characters and stories in literature. Sheela is a fiction and middle grade writer and faculty member at Vermont College of Fine Arts. Sonja is a fiction writer, opera singer, and freelance editor and academic. Both graduated from Stanford in 1995.
Our guests in this episode are Petros Perselis and Anurag Kadasne. Following their upbringings in Greece and United Arab Emirates, respectively, each attended undergrad in the U.S. before meeting at Stanford. The pair discuss the ways Stanford's diverse student body, interactive learning approaches, and culture of questioning, enthusiasm, and entrepreneurship influenced their professional interests and contributed to a new lens on culture and identity. Anurag is Senior Product Manager at Amazon. Petros is Vice President of Customer Success at Cutover. Both graduated from Stanford in 2013.
Our guests in this episode are Mona Azadkia and Yeganeh Alimohammadi. Mona and Yeganeh met in high school in Tehran and came to the U.S. to study. Their conversation touches on the ways Trump's travel ban impacted their time in the US and the ways becoming an immigrant offered new insights on Iranian culture and opportunities to redefine themselves. Mona is an Assistant Professor in the Department of Statistics at the London School of Economics. Yeganeh is a PhD candidate in the Operations Research group in Management Science & Engineering at Stanford University. Mona graduated from Stanford in 2020, and Yeganeh in 2022.
Our guests in this episode are Jen and Sherlene. Jen and Sherlene both grew up in Singapore and came to Stanford for their undergraduate degrees. In their conversation, they reflect on how this experience influenced their perspectives on race and identity both internationally and in Singapore and opened the door to further exploration of their interests, career paths, and self-expression. Jen is a PhD candidate in counseling psychology at New York University. Sherlene is Senior Assistant Director of Income Security Policy at the Ministry of Manpower, Singapore. Jen graduated from Stanford in 2013, Sherlene in 2014.
Our guests in this episode are Alessia and Xiaorong. In their conversation, they note the surprising similarities they discovered across their Chinese and Italian backgrounds, how their experiences in California shifted or reinforced aspects of their identity and approach to learning, and the warm and supportive community they found at Stanford alongside students from all over the world. Alessia is a sustainable finance expert, author, and adjunct faculty member at the University of Chicago. Xiaorong is Associate Director of Statistics at AbbVie Inc. Alessia graduated from Stanford in 2003, Xiaorong in 2004.
Our guests in this episode are Sheba Najmi and Samira Khan. Looking back over their personal and family heritage from British India and Pakistan, they reflect on how their their experiences and identities contributed to their careers merging social impact with technology. Sheba is the Founder and Executive Director at Tech for Change. Samira is Director of Campaign and Field Insights in Global Public Affairs at Microsoft. Sheba graduated from Stanford in 2002 and Samira in 2003.
Our guests in this episode are Charlene Wang and her daughter Rachele Lam. Together, they discuss the ways personal loss, the challenges of fitting in, and the joys of finding community have shaped Charlene's journey from Hong Kong and Rachele's upbringing between New York and Hong Kong. Charlene is currently a counselor at Redeemer Counseling Services in New York. Rachele is a licensed acupuncturist and herbalist and founder of Fountyn Acupuncture. Charlene graduated from Stanford in 1983, Rachele in 2013.
Our guests in this episode are Ellie Dehghan and Tsion "Sunshine" Lencho. In their conversation, Ellie and Sunshine explore how their families' roots in Iran, Mexico, Liberia, Ethiopia, and Nigeria have shaped their understanding of themselves and their experiences in the US and abroad. Ellie is Head of Legal and Global Operations at the END Fund, and Sunshine is Co-Chief Executive Officer at Cleo. They both graduated from Stanford in 2012.
Our guests in this episode are Nitya Rajeshuni and Irteza Anwara Mohyuddin. Nitya grew up in the American South, while Irteza was born in Bangladesh and came to the US when her parents immigrated. Together, they dive into the complexities of South Asian identities, shared values across faiths, and how immigration has shaped their work over the years. Nitya is a Leerink Innovation Fellow at Harvard HealthTech and a physician and epidemiologist. Irteza is a Postdoctoral Fellow at the Annenberg School for Communication at the University of Pennsylvania. Both graduated from Stanford in 2013.
Our guests in this episode are Stan Sze and Sarah Chan. In their conversation, Stan and Sarah paint portraits of their upbringing in Yangon, Myanmar (formerly Rangoon, Burma) and Brooklyn, NY, reflect on identity in America, and explore the ways they have remained connected to their communities and heritage over the years. Stan is President and Director of the B.K. Kee Foundation and Board President at Community Partners International and Sarah teaches at an independent school in New Jersey. Both graduated from Stanford in 1990.
Season 1: Stories Behind the Research
Immigration Policy Lab co-director David Laitin speaks with Ran Abramitzky, a Stanford economist and co-author of a new book that uses big data to dispel myths about U.S. immigration history. The book reveals how immigrants have risen to success over generations and how much today's immigrants resemble those of the past.
What are the odds that three consecutive winners of the Johan Skytte Prize—the equivalent of the Nobel in political science—would be friends who had been classmates as undergraduates? When Stanford professor David D. Laitin was named this year's winner, he followed his Swarthmore College roommate, Peter J. Katzenstein (2020) and their friend Margaret Levi (2019), David's colleague in Stanford's Department of Political Science and a Bryn Mawr alumna. The three of them became friends when they studied political theory in parallel Swarthmore seminars in 1966 and ruminated about politics and political science in post-seminar suppers. Here, they come together to reflect on their formative years, career milestones, and future plans.
Vasco Yasenov, an economist and IPL postdoctoral fellow, talks with executive director Duncan Lawrence about his childhood in post-communist Bulgaria, his work at the center of a heated, high-profile debate about refugees and labor markets, and what economics gets right and wrong about immigration.
IPL executive director Duncan Lawrence talks with graduate fellow Mashail Malik about the ups and downs of her journey from Pakistan to the United States for college, her research on violence and identity politics, and what data and lived experience have taught her about human resilience.