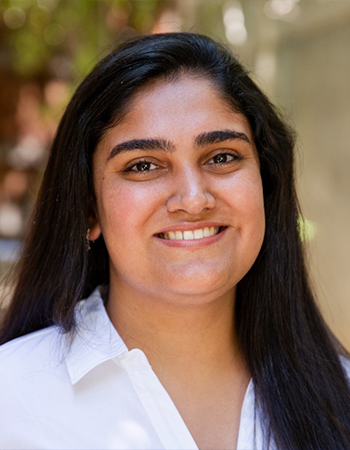 Sakshina Bhatt
Research Program Manager
Stanford University
Email: sakshina@stanford.edu
About
Sakshina joined IPL as a Research Program Manager in September 2023 to support programs in the US Immigration portfolio (with a focus on comparing health utilization outcomes for undocumented mothers and their US-born children), and the Migration & Development Initiative. Her responsibilities include project scoping and management, developing partnerships for research and fundraising, data collection, and supporting research design and data analysis.
Prior to joining IPL, Sakshina worked as a pay-for-success public sector consultant, where she provided technical assistance on better workforce integration strategies for immigrants and refugees in central Texas, using federal funding sources. She also conducted field research on mixed-methods impact evaluation projects with J-PAL, UChicago, and the World Bank. Her work spans focus areas such as public health, agriculture, financial inclusion, poverty alleviation, low-income housing, and workforce development. She earned her Master's in Development Practice from UC Berkeley's Goldman School of Public Policy in May 2022.
As an economic migrant, she is passionate about ensuring last-mile aid and program delivery for those lacking access to resource-rich infrastructures.